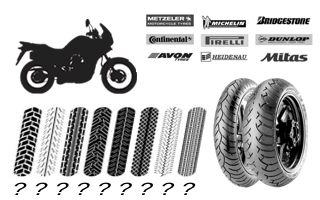 La información proporcionada en esta página es sólo para su información. Usted descargue completamente myNETmoto de cualquier responsabilidad en relación con, o como consecuencia de, los reclamos por ustedes mismos y / o cualquier tercero por los posibles daños posteriores a la instalación de los neumáticos no deseados.
DUNLOP ROADSMART II


Dunlop's new RoadSmart II provides a new benchmark of balanced all-round excellence for demanding riders. A premium sport touring tyre, combining the all-round attributes required, together with improved mileage. Providing the freedom for adve [...]
BRIDGESTONE BT 45


This all-round sports bias tyre is for imported and re-imported bikes and offers the same basic performance as the BT-45. Ideal for the rider who seeks overall high-speed performance.
BRIDGESTONE TRAIL WING


Trail Wing TW301 and TW302 are on-off type tires with primal emphasis on on-road performance, making the tires ideal for the customers who ride off-road motorcycles mainly in metropolitan (city) area.. Considerable attention has been paid to the bala [...]